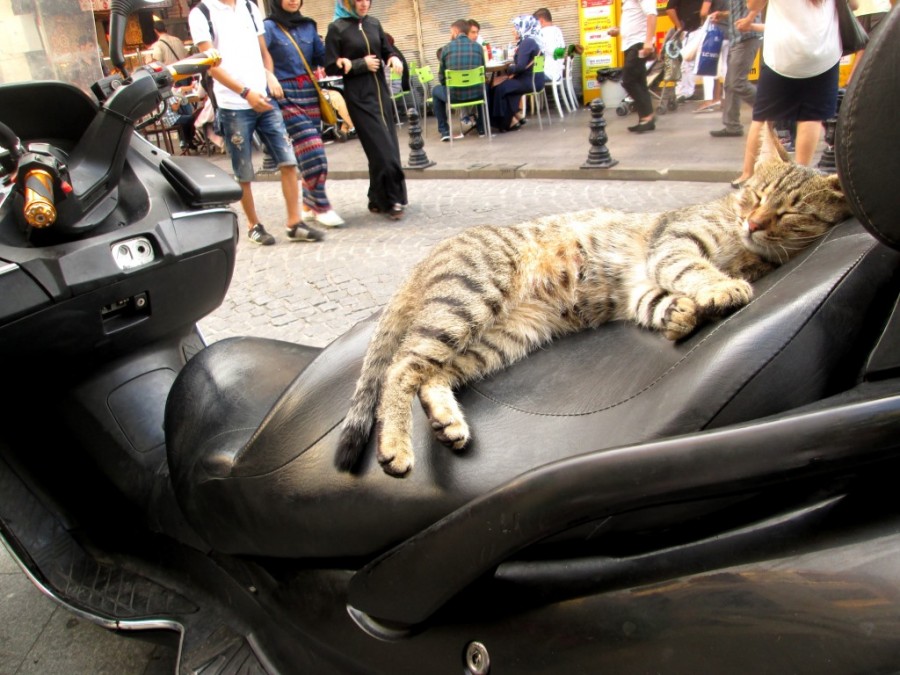 Some snobbish warnings and some tips:
Thehappyfew may often find Istanbul noisy, chaotic and insalubrious. The permanent feeling of being in a cheap, overcrowded bazaar will become quite a nuisance if you don't have a backup. In Istanbul the backup is an oasis of comfort and peace, namely a very good place to stay and a few getaways far from the madding crowd. Choose a good hotel and don't even think of looking for accommodation in Taksim or Istiklal
The main hotspots in the old city are see-and-flee; there is no reason to linger (or find hotel, God forbid) in Sultanahmet, Topkapi, Grand Bazaar, Suleymanyie, Sirkeci, Eminonu. Some restaurants are nice though, so you can have a meal near the Cistern Basilica in between two museums. Medusa is a cute restaurant, located in a splendid house with a gorgeous courtyard 
Incredible but true: If you ask me, the best place to stay is on the Asian side, facing the sea and the Adalar Islands. I liked Moda district: it is clean and upscale, has a lot of taverns and good local shops, a wonderful beach club and is close to Kadikoy, which means you are in the old center in 15 minutes by ferry (awesome) or by metro (fast). 
I'll say it again: the food is great, they are very careful with the meat and every small kebap house offers finger-licking lamb or veal. The local pastries and sweets are also great: borek, kunefe, Kataif, baklava, filled quince, creams and rice puddings, all. Ayran is good, fresh fruit juice is gorgeous, have a leap of faith and try it at the mobile stands. Stay away from the mussels on a hot day, this is mere common sense. Don't worry about the funny-looking, improvised food stalls or small, suspicious taverns with 2-3 tables in the street. They're basically ok. I ate at a place where tables were tiny thingies at a street corner and coca-cola boxes were used as chairs; the lamb was still fabulous. 
The word for fish is balik. You'll find it helpful
The language gap is huge. You'll find it very rewarding that you can actually remember what and where is Eminonu, Karakoy, Kadikoy and Uskudar after a few days. You'll never remember the words for basic stuff. Just be polite, in any language. People don't speak English, except for a few phrases in the tourist trap spots. Young people do speak English, so when you have a question, ask a fellow traveler or a 15-20 yo local.
Istanbul, like Rome, is built on seven hills. Unlike Rome, it is bigger, with more people of many more races and nationalities in it, and with steeper hills and streets than the ones going up and down the Spanish steps. There is no Google street view available for Istanbul, so make sure you know your neighborhood before going there, especially if you're old, unfit, pregnant, or simply lazy.
There are too many people, I repeat, too many frenzied, hurdled, noisy, pushy people. Don't think you're prepared if you've been to Oxford street in December, it's not the same. The public transport, Istiklal street, Grand Bazaar, Eminonu, they are frightening at rush hours. Just sayin, you'll have to do it anyway.
Twilight casts a transfiguration spell on the old city: colors change, minarets glow, silhouettes become more mysterious, the Arabian night feeling settles. Wait for the sun to set in the Sultanahmet park, laying on a bench between Aya Sophia and the Blue Mosque, just near the Hurem Hamam. The most touristy place in the city calms down quite magically at night.