Delicate rice fields, equally delicate elephants, huge beaches and huge whales, original paella and a river to play tennis in – incredible findings in one city, but oh so true.
I had underestimated Valencia for years; between the fascination of Andalucia, the blue attraction of the islands and the overwhelming capitals Barcelona and Madrid, Valencia never made the top list. I am happy to admit I was in the wrong. Surprises are priceless for thehappyfew, so I'm – like – over the moon when such a big one comes around. Here is what I discovered, the why's and the how's.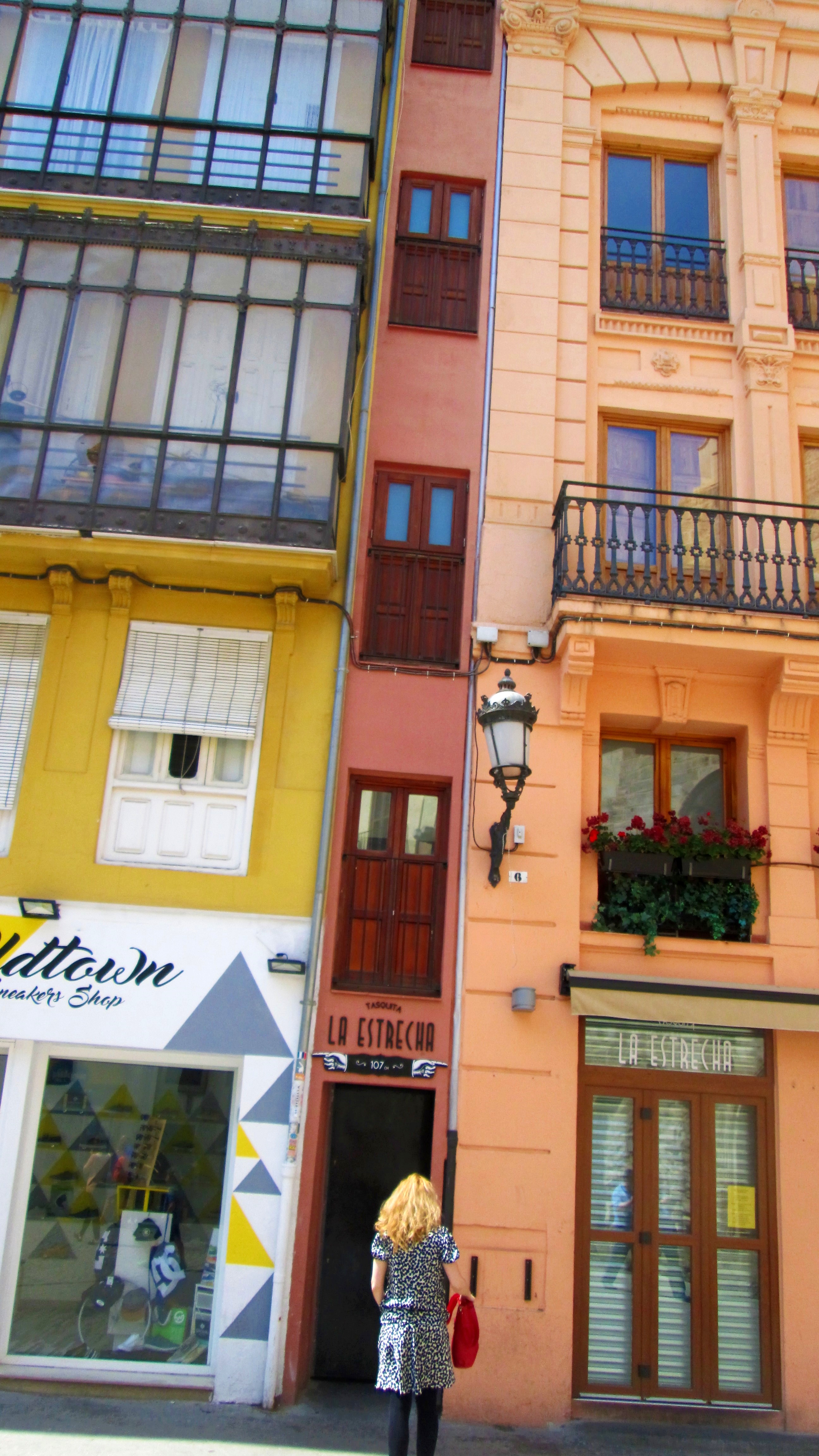 There's a lot of literature that prepares you for the trip, and the infrastructure in place is quite awesome, so in terms of practical info I will only say it is a pleasure to use public transport in Valencia, there are bus maps and metro maps on www.emtvalencia.es ready for easy download, there are good apps to install on your phone, taxis are affordable and you can also rent a car: no stress involved, the roads are incredibly large, signage is perfect and fellow drivers very civilized. I very much enjoyed parking in the middle of the road, because it's twisted and chic; they have a lot of streets flanked by orange trees where parking lots occupy the middle of the road, not the sides, in order to protect the trees and leave breathing room for the little neighborhood taverns with 3-4 tables on the sidewalk J. As always, I encourage you to go outside the historical center, into the real neighborhoods, and live like a local for a little while.
And another piece of useful info: local signage and maps are usual in Valencian, the local dialect, that can differ from standard Spanish quite significantly at times. For instance, don't look for street la Paz, because it is written la Pau, Jativa is Xativa, Playa is Platja and so on.
So why will thehappyfew loveValencia? Because it is a city that has it all to be happy and serene; a city that is not glitzy nor loud, never ostentatious and full of good taste. Valencia is more intimate than Madrid and less flamboyant than Barcelona, and it's all for the best. There is no aggression of any kind, you don't feel like in a tourist trap and most important – it's a heaven for children of all ages and outdoor activities. Plus, Valencia has a way to become familiar without being dull or repetitive. They don't flaunt this in your face, but the world-famous paella was invented here, and they still make the best one in the world. What you come to discover is that the original paella recipe is made with meat (rabbit and chicken), snails, green and white beans and, of course, rice – which is grown in the nearby Albufera lagoon. Yes, you can visit the rice fields and do some bird watching at the same time.
Another extraordinary thing about Valencia is that all roads go to Turia. Oh wait, is Turia a river or a park? It's both! The Turia river that crossed the city, winding towards the sea, caused a lot of problems over the years, repeatedly flooding a city otherwise obsessed with cleanness. So what did they do? Magic wand and smart architects, they diverted the course of the river south of the city, and transformed the former riverbed into an ever-charming park that crosses the city from west to east in a magical itinerary of palm trees, oranges, playgrounds, sports fields, fountains and patches of pine woods to hide in. Going from one river bank to another means either walking through the riverbed or crossing one of the many bridges; if this isn't a super-cool way to navigate a city, I don't know what is.
One happy scenario for a Valencian holiday would be to stay at least a week and rent a car for 2 or three days to go outside Valencia, up on Costa del Azahar to Peniscola and south to Albufera, Cullera and Denia, towards Cabo de Santo Antonio (see here). If you like to stay near the sea, you can choose the parador in El Saler or Las Arenas Hotel & Spa in Cabanyal. I liked the downtown best: the area south of Plaza de la Reina, around Poeta Querol towards Colon is especially beautiful, so you can search for a hotel there. Palacio Dos Aguas seems out of this world at night, and dining al fresco is more peaceful in this part of town than in El Carmen.
Long story shorter, here are the 5 things that made us want to come back, and soon (probably during Las Fallas, the city's extravagaza fiesta).
1. The city is a huge playground, with amazing parks, thrilling wildlife encounters, an immense fine sand beach and very bike/ roller/ Segway etc friendly. You see people playing all the time, or jogging, or having a picnic, or flying a kite. You can escape the city in so many ways, without actually leaving it: read a book in Monforte Gardens, sport in the Turia, idle on the beach, paint pink flamingos or chase lemurs at Bioparc.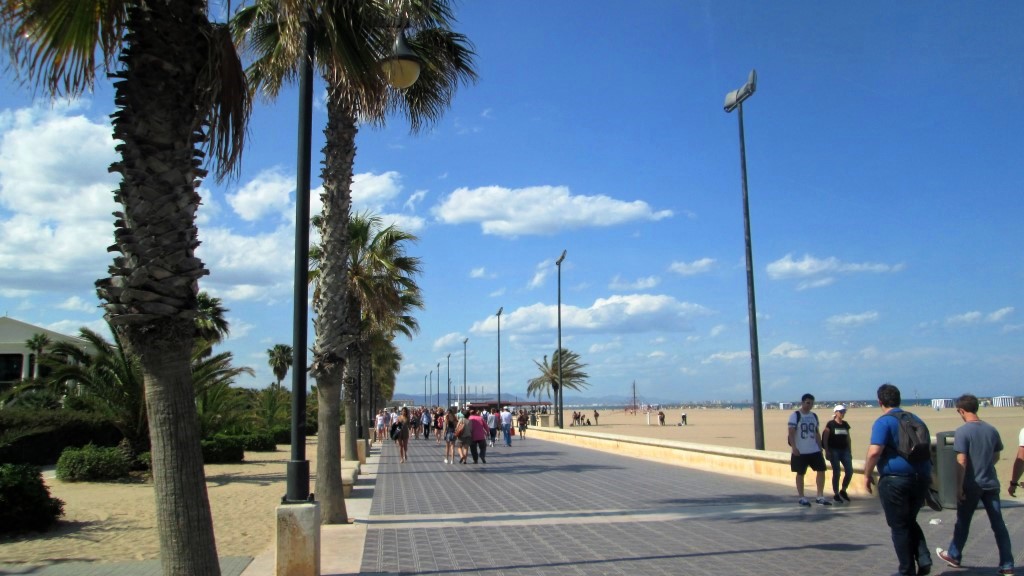 2. Valencia is old and new at the same time, integrating all ages without effort. The historical part of the city is made of two neighborhoods, the Ciutat Vella and El Carmen, where most of the tourist attractions are. Map in hand you will check them quite quickly: The Cathedral, Mercat Central / The Central Market, Lonja de la Seda, Estacio Norte and Plaza de Toros, Torres Serranos, The City Hall (information point inside) etc. The old city is luminous and not that cramped as you'd expect from a place with such history, fitting into the bigger picture of large boulevards, modern buildings and the beautifully contrasting Ciutat de la Artes e las Ciencias.
3.  The City of Arts and Sciences is truly amazing, not just picture perfect. Calatrava's Hemispheric is the most defining image of the city, and surely the icon featured in all guides when you plan your travel. The whole complex is more impressing than first imagined, and it takes two-three days to properly discover it. It includes the Hemispheric – a Planetarium and IMAX cinema designed to resemble an eye that can open its eyelids, a Science Museum, an opera house, the Agora – a congresses and concerts hall, the Umbracle – a landscaped walk through the complex and a futuristic bridge whose 125 m high tower is the tallest structure in the city, all designed by Santiago Calatrava. The complex also includes the one and only Oceanographic, designed by Candela, for which you really have to reserve a day: there are penguins and birds and butterflies and whales and corals and dolphins and millions of fish out there, the entire ocean to discover.
4. The sea! And the beach that comes with it. Valencia has a huge, fine sand beach stretching for miles and miles north of the harbor to the city limits and beyond. The sea-facing neighbourhood, Cabanyal, preserves its fishing village feel, with small, colorful houses that show the signs of time. The municipality tried to modernize Cabanyal but faced a fierce resistance from the locals; the result is a lively chaos of poor homes and adorning tiles and bright graffiti and greasy taverns that actually hide the best pescaditos fritos in town. A large promenade – more of a palm tree lined boulevard – takes you along the Las Arenas beach in Cabanyal and goes on along the immense Malvarossa beach. Infinite sunbathing options and never truly crowded. Come to think about it, it may very well be the best big city beach in Europe.
5. Bioparc. As said once before here , this is the happiest re-creation of Africa you'll ever see. Just pack for a picnic and spend a whole day (photo) shooting and exploring. As we inexplicably adore giraffes, please feel free to post your own giraffe photos on our facebook page www.facebook.com/thehappyfew.ro.