The treasure map for thehappyfew discovering the coastline
Costa de Prata (between Porto and Lisbon): from Porto / Vila Nova de Gaia – Dunas Sao Jacinto – Nazare – Obidos – Baleal – Peniche, Praia da Mexilhoeira – Foz do Sizandro – Sao Juliao – Magoito, to Aguda, Adraga and down to Guincho. Infinite white beaches for surfers and lovers of the immense blue, and secret coves that are hard to find and even harder to leave.
Algarve: mainly the Lagos – Sagres – Cabo Sao Vicente area. Probably the most beautiful beaches in the world, an incredible scenery created by the famous red rocks that take fantastic shapes and hide mysterious corridors sculpted by the ocean waves to take you from one cove to the next bay, and so on. Heaven on Earth for photographers and romantics, and addictive to us all.
Driving from Faro west to Cabo Sao Vicente, thehappyfew will love: the coastline in Vale do Lobo – Ancoa – to Albufeira Sao Rafael and Ninho de Andorinha (where you can step into wonderland through the keyhole, quite literally),and the all-too-secretive Cala.
Cova Redonda in Lagoa, Ponta da Adega and Nossa Senhora da Rocha with its famous tunnel and the delicate white church on the rock, then Carvoeiro with Praia do Padre Vicente, Praia do Torrado in Ferragudo, and the famous Praia da Rocha in Portimao, much too touristy in high season but completely transformed in March-May, or in the surreal winter light.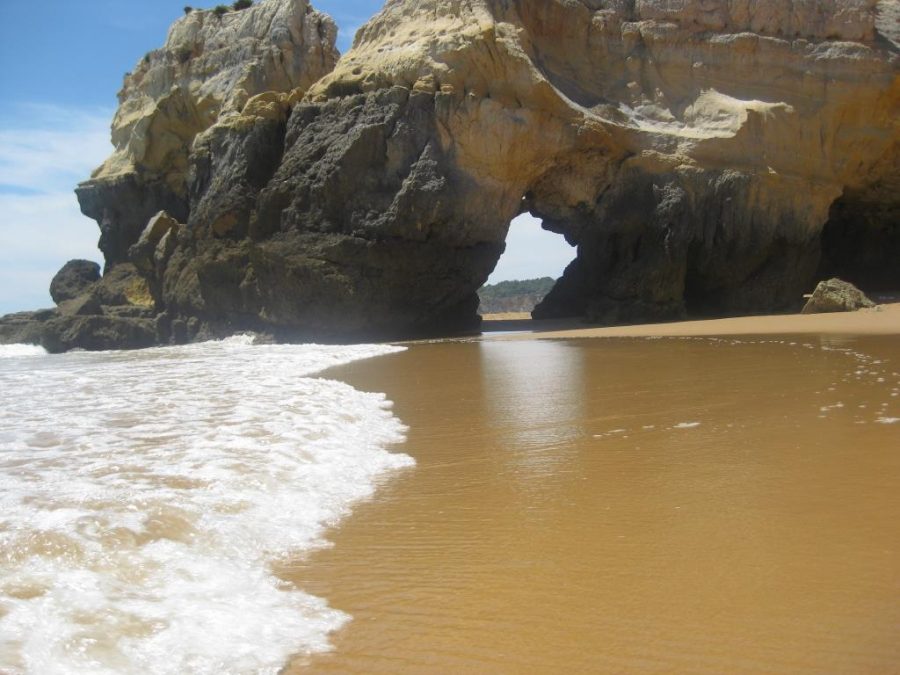 Going west of Portimao towards Alvor, which is a gorgeous holiday alternative to Albufeira, we like Praia Submarino, Tres Irmaos and the classical Praia Alvor with its serene waters and Castelo de Alvor, then Lagos. I have two absolute favorites for the Algarve stay, and Lagos is one of them (the other is Quinta do Lago). Lagos is not a resort but an old town with a castle – Castelo do Guvernador, and here you can find Praia dos Estudandos, Dona Ana, then Pinhao and the lovely Do Camilo, both accessible by going down a lot of steps;but still worth it.
And then there's Sagres, the one and only. Coming from Lagos you will love Farol Ponta da Piedade, Barranco do Martinho and the wonderful adventure that is Canavial beach, forever flooded and isolated at high tide. When you reach Sagres and wander the solemn fort you only want to stay there – which you can actually do, taking a room at the beautiful Pousada. In the area, look for Praia do Tonel, Beliche and Praia da Mareta. This is a good spot to relax and forget yourself. You can dine in traditional azulejos decor at Telheiro do Infante if you are in a celebratory mood, or enjoy the bohemian Raposo tavern, so loved by surfers for the glorious fish. Both places have a view over Sagres, and there is no better place for the hours before sunset. As for sunset, everybody (first-timers and more) goes to Cabo Sao Vicente.