ONE: The windmills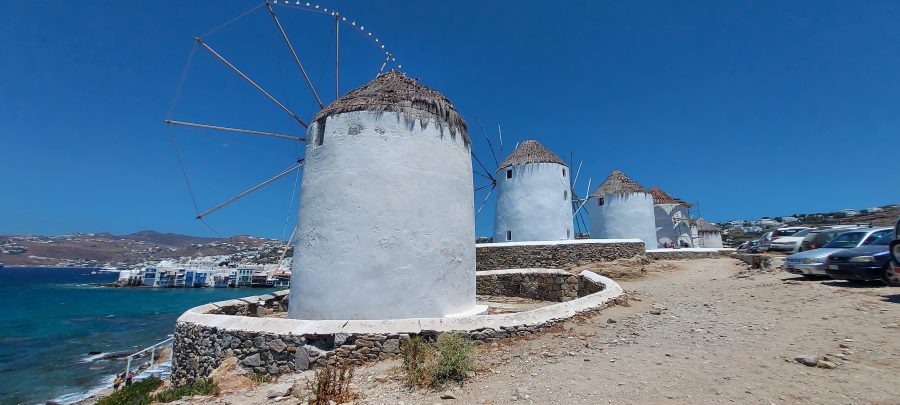 That jump-into-the-postcard feeling: amazing! The iconic windmills that are a synonim for Mykonos and for the Cyclades can be seen from just about everywhere in the bay area or from up the hill in the city. Incredibly famous and photogenic, they are the soul and signature of Mykonos. Built in the 1700 to mill the wheat using the revolutionary power of wind, they have been a symbol of wealth and welvome for all visitors: trade ships, fishing ships, merchants and travellers.
The most famous ones are the Kato Milli, the row of six mills on the shore cliff in Chora, next to Little Venice. You can reach them easily, as there is no steep climb. There is a wide, staired promenade from Alefkandra square, you can access them from the restaurant on the beach right below, and there's also a shore pathway if you're coming from the other direction, from Neochorri neighbourhood/ Fabrika, past the Agios Haralampos church. The area is quiet during the day, when it's hot and windy, and gets crowded in the golden hour, when people gather to see the sunset.
There are also a few other mills scattered throughout the town, one of them – Bonis Mill in the Old Port- turned into a museum.
TWO: Petros the pelican
THREE: Little Venice
You'd almost think there are two of them. The famous feet-in-the-water neighbourhood is quiet, serene and lazily inviting during the day. One hour before sunset, as if it were a huge music box wound up by a magical hand, everything changes: people start pouring in, the night shift presents for duty at the bars, loud music is turned on and couples start claiming their sunset-view tables. By nightfall, it's clubbing scene all over, filled to the brim. You can dance, linger around with a cocktail or hop from bar to bar while the waves splash your feet.
FOUR: The stroll through Chora
FIVE: Late nights
SIX: The beaches